So, my home is normally in Mineral Town. But I thought I'd try to venture into the wide world of Forget-Me-Not Valley. I had tried as a boy before, but... I don't know, I just think being a girl is more fun~

So, "Stephi" has started a farm called Lily Farm. I have brought with me my two guides-- a dog and cat aptly named Virgil and Bea (short for Beatrice).

Time to set up a farm, get rich, and maybe find true love!

Ignore the links that the pictures lead to, I'm just too lazy to do proper HTML tonight.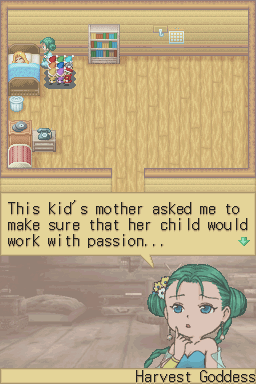 Why yes, that does sound like my mother...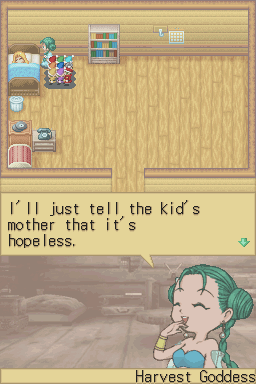 ... But the Harvest Goddess obviously hasn't met my mother, because my mother wouldn't accept that answer.

I DON'T WANNA GET UP EARLYYYY...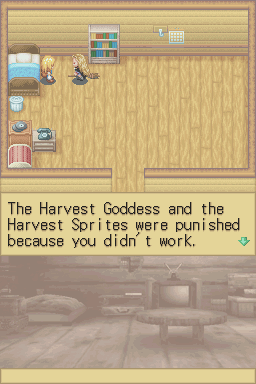 So shit goes down.
Figures.
You'd think I'd wake up for a cute girl, you know? Oh well.



And the Witch Princess is upset because I sent her girlfriend away.
Yeah, all that hating is just a cover-up. These girls are "best friends" in a Japanese version of DS Cute sort of way, if you know what I mean. ;)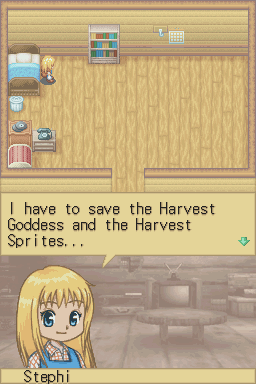 You're relying on me? Seriously? HAHAHAHAHA-- oh, you aren't joking.
(But damn am I cute!)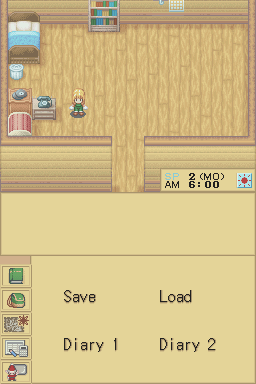 So I figure I might as well put on my alma mater's color and get started...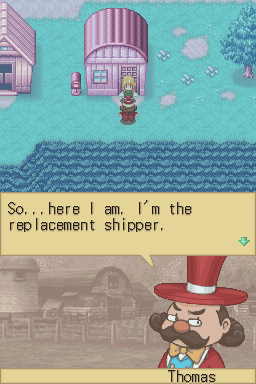 Only to find out that I'm not the only shipper in town?
Oh, wait, wrong kind of shipper.
Hmph.
(Why can't I water and chop him in this game?)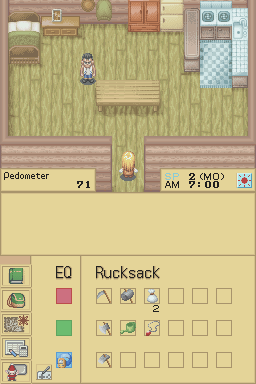 WHO ARE YOU AND WHAT ARE YOU DOING ON MY PROPERTY?!

So then I go off to visit my future husband, who doesn't realize that he's my future husband.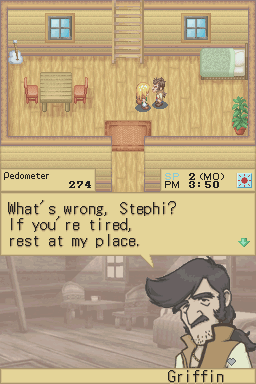 Griffin, older sweet man who plays a mean guitar and runs a bar. He makes me giggle like an iridescent schoolgirl.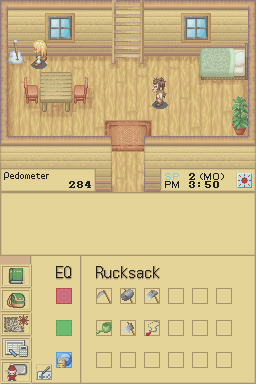 I told you, he plays the guitar. I love a man who can play a guitar...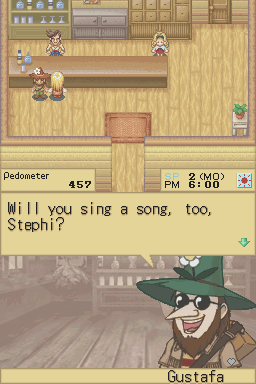 ... Unless he's a bearded hippie bard-wannabe named Gustafa. Meet Gustafa, my arch-nemesis. The bastard lovechild of Takami Akai and "Mary Jane".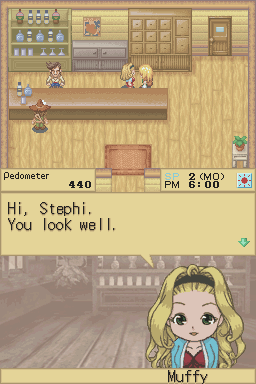 And this is Muffy. She is my rival, but I'm doing this for her own good. She only goes after poor Griffin out of desperation, and you can tell from their quotes later on that it is NOT a happy marriage. So, honey, I'm doing you a favor. Go for that flamboyant thief boy or something.

So I buy a drink from my future hubby and...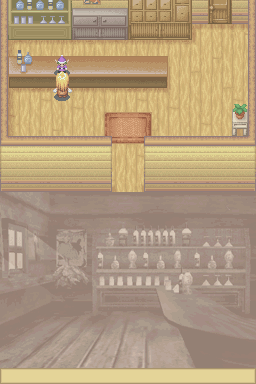 I get my first slave! Yay!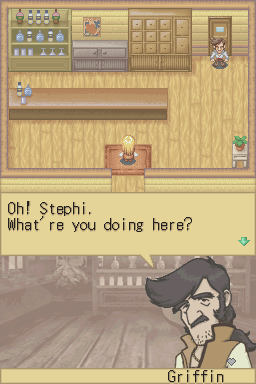 The next day I go in and get a ~love~ event.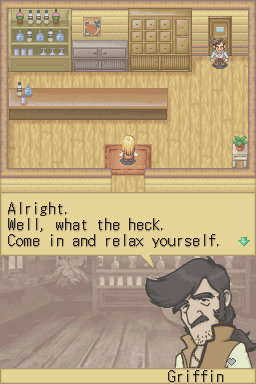 Oh, hun, nothing relaxes me more than a lemonade and a cute man... actually, that gets me nervous and flirty... hmm...



Getting some special treatment with some rare juice.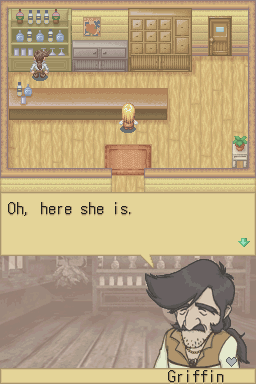 He calls bottles 'she', like a ship or something. That is so cute and old-fashioned! Hee hee~! (He's so much better than Rock or Gustafa, I swear...)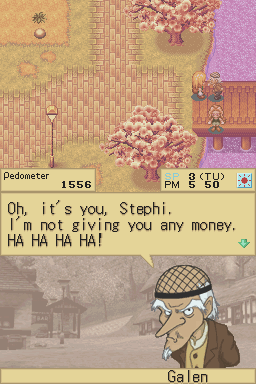 So then I go out and this random guy tells me that he won't give me money. Uhh? Did I ask you for money, old man?! You are a rude, rude bastard!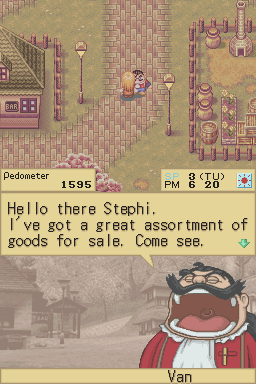 So I walk off in a huff and come across the Gourmet's missing cousin.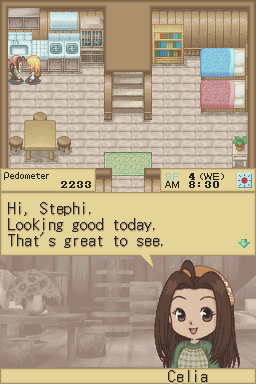 And then a cute girl comes onto me. Score!

So I see Mr. Rude Man again, and I go up to tell him that he's a douche, but...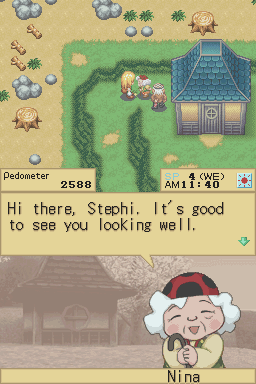 His wife is fucking adorable. I can't do it. 8<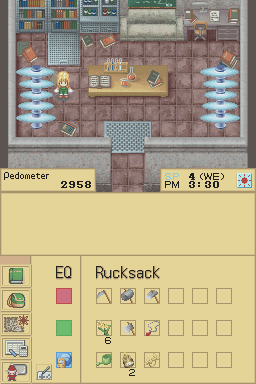 Here I'm searching for a mad scientist so I can hit on his pet mermaid. No luck, so I decide to come back later.

So, I go to the well to see if Yamamura Sadako is in.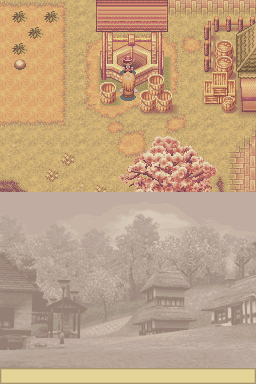 AAAIIIIIIIEEE-- oh, it's another slave. Hi, slave.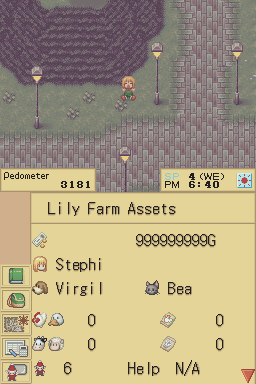 So then I get bored and cheat my way into 999,999,999 gold. <3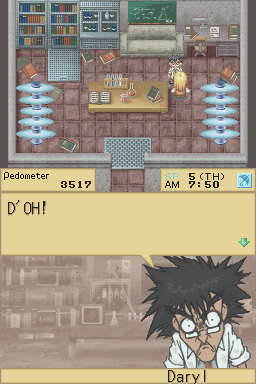 Found the scientist! Isn't he just so happy to see me? Eh-heh...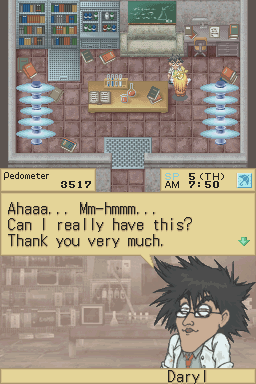 Okay, now that's just creepy. Last time I saw someone that excited over a food item was in "Hadashi de Bara wo Fume", and that was with a rice ball. Fucking nutters...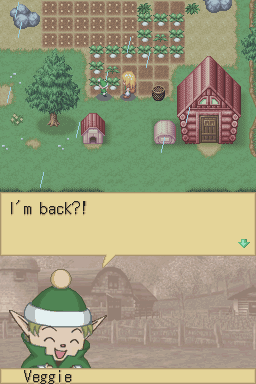 The slaves just keep on lining up.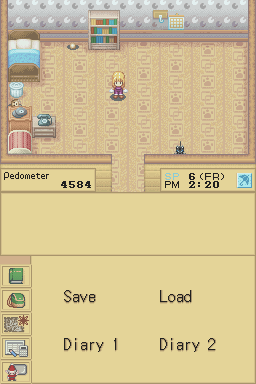 When I got back home, I saw that Beatrice and Virgil redecorated to show who the REAL owners of the house were... sigh...

It turns out that it's a good thing that I wasn't a jackass to Mr. Rude Man and Cute Little Ol' Lady, because they gave me a fishing rod.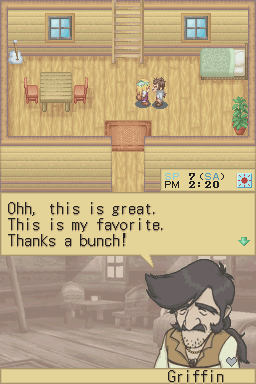 And Griffin loves fish. Hell yes!!

That night...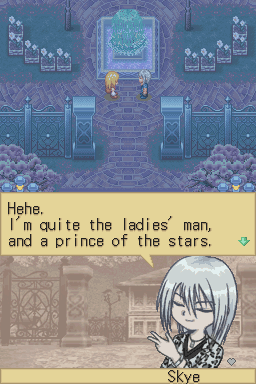 I met this moron, who I want to punt into the fountain. What makes you think that I'm interested in pretty-boys, huh? Sheesh... he looks like a wimpy Kousei...

I go to befriend a butler when--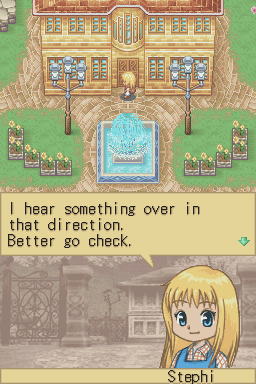 Eh? I guess I'm having a Silent Hill Hero moment. As in, hear something suspicious and you immediately check it out. D'oh!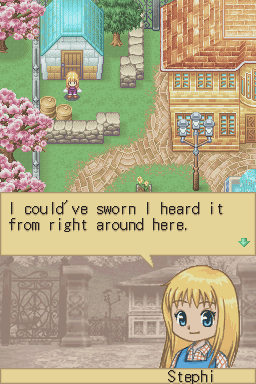 I hope it's Pyramid Head.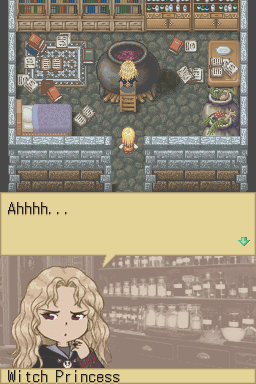 Oh, gee, I hope she isn't still upset about her girlfriend...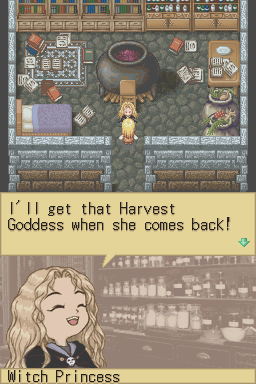 I'M ROOTING FOR YOU, WITCH PRINCESS!

That's all for tonight, I'll take more pictures... whenever I feel like it. I need to re-unite the lovers and continue hitting on older men. WOO!